We asked Callum Ramsay to ride again at Brands but he was in third place in the British 250 championship, and Honda (UK), his main sponsors said no to the ride. Honda's race co-ordinator Roger Harvey insisted that his reason was the championship position held by Ramsay and declined to give an official reason, he did allow privately it was because HONDA was not spelt D-U-C-A-T-I. There was no way we could (or would want to) upset Callums relationship with his major backer so that was it, where do we find a new rider?
This left us with a problem, we had a very competitive bike, a crew ready for the challenge but no rider. The easy solution would have been a rider, any rider, used to Brands Hatch, that would have ignored the whole point of the championship, and the point of my project. The search was on, who could ride, I remembered the excellent ride at Daytona by Rodney O'Connor, he would know the bike if not the circuit, we would at least be in contention. I phoned Rodney's Dad at 9.00 a.m. on the Monday. Would Rodney like to ride the bike on Friday? After a reasonable discussion the O'Connors were on for it. Rodney left New Zealand Tuesday evening, 24 hours later, and arrived in the UK on the Wednesday morning, he had never been to Europe before and here we were, getting ready for Sunday when he would be racing in front of 88.000 people, the biggest crowd in British motorcycle sport.
Rodney spent a day out acclimatising with the Smart family (as in Paul -1973 Imola winner on a Ducati and Scott, reigning British 250 champion and current 500 GP rider). Friday we went to the Dyno in the morning and then on to the circuit, a mere 20 miles from home base. We had a new valve seat arrangement and an aluminium rock guard over the airbox intake - no way was I going to let it eat more stones!
We geared the bike using our now usual technique, whatever Alan Cathcart had used, minus two teeth, we never, with the quiet Skorpion fitted, needed to rev over 10,000 rpm, this actually gave the valve gear, exactly the same as that in the works bikes, an really easy time. The suspension was looking good, we had a rider with good machine type experience, the engine was getting better and better, we had a full team of people - the Donington crew again. It seemed like good weekend was on the cards.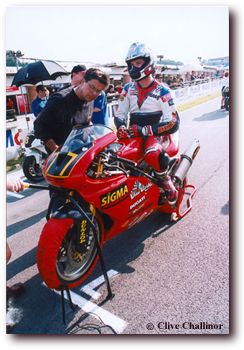 Five minutes into the first half hour of practice, just as Rodney was working out where the circuit went (and Brands Hatch is as specialised and complex as they come) we got a lesson in the magnitude of airbox dynamics, the engine ate the aluminium mesh stone guard, sucked it all the way down the inlet tract - not, it has to be said, my proudest mechanical moment. Rodney controlled the bike, and coasted down pit lane. In a fit of logic that would give me kittens in a less pressured set of circumstances we ripped off the airbox and throttle body, cleared out any stray metal and reassembled everything. On the basis that if there was internal damage it was there already, we sent Rodney out for another 10 minutes.
On strip down there were a few little dents in the valve seats but nothing much to worry about. Best of all by the time practice finished Rodney was seventh fastest, 1 second behind pole but with the fastest bike through the speed trap. A little perspective is required here, the UK was the home of most of the Euro Supermono competitors, they all knew their way round a very demanding circuit, in addition the Ducati's speed came from corner speed and corner exit speed, we were 15 hp down on the most powerful bikes. It is a measure of Rodneys skill and speed of learning that the competitor he was closest to on the grid (and ultimately in the race) was Dave Morris, the winner of the 1997 and 1998 TT Singles (Supermono) races.
The philosophy of modernising the bike had not yet had to do any thing to the brakes, we had run Ferodo pads very successfully all year but Rodney wanted a much less progressive pad, one that he could stand the bike on its nose with one finger. Ferodos allow you run fast into a corner and give a lot of power but they do so without very much initial bite. Rodney wanted initial bite, lots of it, we finally fitted a pair of EBC sintered pads, even in the paddock they felt fierce but that's what the rider wanted, and that's what he got. Funny thing with brakes, we had five different riders during the year and the biggest difference in set up was their preferences for brake 'feel'.
The race went well, Rodney was briefly at the front and slipped down to fifth, the race was a dogfight between Elliot Burgess on a MuZ, Katja Poensgen on the BMR and Steve Marlow on the Norton, all these bike displaced over 700cc and, in front of 88,000 people, all were being ridden exceptionally well.
Rodney held onto the lead group for half the race then was left to fight it out with Dave Morris, considering the speed with which he had been deposited on the bike this was a terrific performance. On the last lap, two corners from home and in fourth place, a back marker punted Rodney off track, he really fought to save the bike but he went down in a flurry of straw. As part of my official duties I was in the commentary tower, with a live microphone in my hand as I watched it happen on the circuit monitor, I learned a lot about personal restraint in the next few seconds……….
The bike suffered fairly minor cosmetic damage, new fairing and seat level, but Rodney was OK which was the main thing (it means I stand a chance of at least being allowed in to New Zealand if I ever get that way again……).
The Supermono class has now been dropped by SBK, it is a measure of how the factories run racing as a marketing exercise that we lost out to a Production Formula. The Brands Hatch Supermono race, in front of 88,000 spectators, and on a brilliant summer's day will remain in my mind as SuperMono racing's finest moment.
Neil Spalding