I almost choked as realised what Ralf had just said, TWO new Ducati Supermono's being sold by a collector in Germany? Ralf insisted that they were not cheap but I was thinking of a very healthy DM to sterling exchange rate and mentally doing sums.
We were sitting in a bar in Suzuka City, quietly swigging beers following a visit to the Over factory and a three-lap blast round the circuit on Over's paddock scooters. It was October 1997 and I had been co-ordinating the Supermono series at SBK Meetings for the previous two years. I had also been racing (with varying degrees of success!) singles for the previous five years. Two things were certain; One, I wanted to prove that the best single ever made was still competitive at the top level and Two, I just really really wanted one. I had not heard of an unused Ducati being for sale since the end of the second production run in 1995, and now here were two.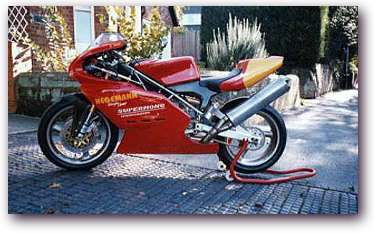 Ralf's source was a week old copy of Motorrad, the German monthly, I thought about what I was doing for all of ten seconds and suggested we go find a phone in the hotel. With the benefit of an 8-hour time differential, ten minutes later Ralf was speaking to the owner, Joachim Upahl. Upahl is a property multi millionaire, he is involved in Peter Hegemann's Ducati business in Schorndorf and personally owns a collection of over a hundred bikes, I still do not know why he was selling the 'Mono's but he told us he still had one and Yes it was perfect.
Several minutes of deep thought followed; it was a lot of money, but if we could just get it going, I thought of all the changes made to the V twins in the years since the 'mono had been designed, and it is a beautiful piece of hardware. I had wanted to ride one for years, ever since I had seen Alan Cathcart's bike at the first big Supermono race at Donington in 1994, and here was my chance, trust me to be on the wrong side of the bloody planet when the opportunity came!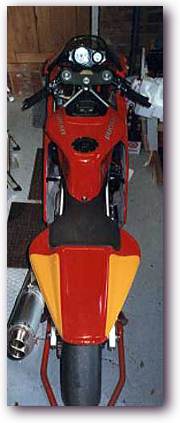 I picked up the phone to Peter Hegemann, Hegemann is a long time Ducati nut and had built the bike that had won that same first big Supermono race at Donington in the hands of Aussie racer (and now Gobert's chief mechanic) Owen Coles. I explained Ralf's conversation with Joachim, and asked for confirmation that the bike was perfect, he confirmed it was and I gave him my Visa number for a deposit payment to be taken, I explained my travel predicament and said I would be back.
The next call was to Alistair Wager, then Alan Cathcart's mechanic, now the Yamaha R6 race co-ordinator, did he fancy a quick trip to Frankfurt for two days? He agreed to drop everything and drive his little Citroen Van down.
I had flown Lufthansa to Japan, via Frankfurt; would they mind if I got off early and did not go to London? Travel arrangements sorted I phoned Hegemann back and told him I would be there in three days. I went to sleep wondering what on earth I had done and what an Ex racer was going to do with one of the best racebikes ever built.
Alistair and I walked into Hegemann Ducati at six in the evening, I had been on the go for the previous twenty hours, Jet lagged to pieces I walked up to the beautiful Supermono sitting on the workbench and confirmed I would take it.
I had started riding bikes in 1972, on a Puch maxi moped, I was one of the first caught by the Sixteener law and had to try and keep up with friends on CB250 Hondas. It made me enjoy going fast (well not slowing down for corners anyway!) but no one in my family had any knowledge of racing or motorcycles. The first serious Biking magazine I bought was Cook Nielsen's Cycle magazine. Based in the US Neilsen was the original racing journalist and the escapades of him and his staff were reported in great detail, as I came into biking Neilsen was buying the Supersport Ducati destined to be known as the California Hot Rod. My formative biking years were spent reading of the trials and tribulations of racing a bevel drive Ducati ('fed up with replacing old lousy Ducati gearbox parts with new lousy Ducati gearbox parts') in the quarterly update called Racer Road.
Neilsens greatest victory was beating all the factory Superbikes at Daytona in the mid seventies on a home tuned 860cc Supersport, in the middle of all the 1000cc fours he had prove that a complete machine was better than sheer horsepower. As we drove home across northern France with a brand new Ducati Supermono in the back of the van I mused on what I would have to do to take the Supermono to Daytona in the spring.
Neil Spalding