Imagineering, The combination of Imagination and Engineering…….
"The application of a healthy imagination and some logical thought processes to the very few facts and figures we can prise out of the factories currently fighting it out in the MotoGP arena. Not to be confused with wild speculation!"
Team Roberts turned up with their brand new Proton V5 at Le Mans, after giving the bike its first taste of a race circuit in practice they then raced their old two stroke triples. The Italian GP at Mugello was to be their real race debut and we decided to take a closer look; and compare it with the 'other' V5 in the paddock, Honda's world championship winning RVF. One of the difficulties with this sort of research is that the teams just smile nicely when you as k questions about what's inside their engines.
First though, why a V5? The MotoGP rules allow minimum weights for the bikes depending on the number of cylinders, 6 or more have to weigh 155kg; 4 or 5 cylinders however can be as little as 145kg, triples and twins can go 135kg; (quite how they will actually make a four stroke triple with decent power at 135 kg is another matter though!). You can use oval pistons but there is a 10kg penalty if you do.
The game is to use the best combination of weight, power and size, within these limits, and give the rider the most effective tool for the race. There is a limit on capacity of 990cc, but theoretically the more you rev an engine, the more air it pumps and the more power it is capable of making, and with more cylinders it is easier to rev it harder. So you have a choice a very high revving high power 6 or more cylinder engine with a large weight penalty or a lighter, smaller bike with less power……… well that's the theory anyway.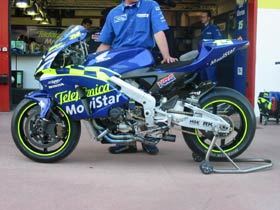 Honda decided very early on that the best combination was a 5-cylinder motor, they also saw how to get it in to the bike in a reasonable fashion. Now Team Roberts have done the same sums and not unreasonably have come up with a similar solution.
Motorcycle race design is very rational; there is usually some form of fashion involved as well so it is no surprise that there are a lot of similarities in the finished bikes. Both are water cooled and use gear driven dual overhead cams on each bank of cylinders, both are four valve per cylinder and fuel injected, they both carry their fuel around their airboxes and under the riders seat. Both have their water pumps and alternators on the left and vertically stacked gearboxes but the cam drives are on different sides and the Proton has a balancer. But we cannot see inside, and the teams won't discuss what's inside so we have to make a few educated guesses as to what is really going on.
Engine options
Honda has always been about big power; they are an engineering led company that has plenty of previous experience in engine design. In the case of the V5 though they had even more experience than normal.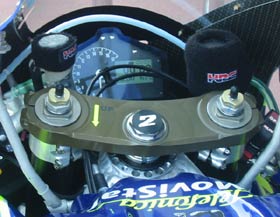 By adding a cylinder to the front bank of a V4, a design they were quite comfortable with, Honda got the extra width of the motor out of the way under the frame spars, the rear 2 cylinders were able to be tucked away between the frame spars; just like on a normal V4.
But maybe there were a bunch of other reasons for their choice of a V5. When the RVF was being developed Honda had recently retired the RC45; their Superbike contender for four years, by the time it was retired it had one of the highest specific power out put engines ever put into a motorcycle. Now if you take a V4 750 and add a cylinder what do you get? A 937.5cc five; and if your 750 four was already making around 160 bhp then you wouldn't be too far out on the power stakes either! So is it possible that Honda, rather than making a very expensive new engine merely used what they had already got. The V5 would throw up a few interesting balancing problems but nothing that a company the size of Honda would not be able to sort…
In the case of Team Roberts the V5 is their first Four stroke; these days its not that difficult to hire in loads of experts to help you design an engine but taking on Honda is not a small task. The idea of using readily available 750 4 cylinder technology to speed up the process has got to be quite attractive. For the last year ex Kawasaki Superbike engine guru Rob Muzzy has been helping Roberts in the Protons development.
So if both teams have based their V5's on existing 4 cylinder 750 technology what would the numbers look like?
There are options though; there is the 'Superbike with an extra cylinder' route or you could go a lot more radical and build a shrunken Formula One engine or, more likely, something in between.
There are a few things to keep in mind here, to allow the rider to control a bike he needs very different power delivery to a racing car. A rider needs progressive and predictable power as he throttles on, especially while leaned over and a very accurate connection between what he is asking for on the throttle and what he gets. Improving this 'connection' or throttle response is always one of the main requests of a rider, especially as the overall power out put of the bikes rise.
The way F1 car racing has gone in recent years is to make the maximum possible power and then control its delivery through sophisticated electronics. Previously, just like bikes, F1 cars have had power valves in the exhausts and four into two into one pipe configurations to make their power useable, now they just go for it and then electronically back the power off to the point the driver can control.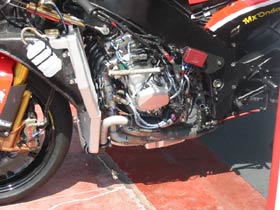 If you took a current F1 engine, lets keep it in the family and use Honda's 2001 engine, and then shrank all the dimensions to a 990cc V5 size, you could make an argument that nearly 300bhp is possible, but it would be 300 completely unusable BHP as far as bike and rider is concerned.
Formula One cars can accept very peaky power, and use electronics to make their engines extraordinary power production acceptable. Bikes are also using electronics but there is a limit to what can be done. Logically therefore the bikes need a less extreme starting point. These days a very brief walk down pit lane will quickly show you an impressive amount of electronics on display.……….. but its not easy, you just have to look around at the number of crashes blamed on to 'fly by wire' systems to see how difficult it is to get everything calibrated correctly.
HondaRC45/RCV211
| | | | | | |
| --- | --- | --- | --- | --- | --- |
| Engine type | V4 RC45 | 990V5 RC45? | Stage 2 990 V5? | 990V5 F1? | Honda FI |
| Bore and stroke | 72 x 46 | 74.1 x 46 | 76.4 x 43.2 | 82.8 x 36.8 | 95 x 42.3 |
| Bore and stroke ratio | 1.5652 | 1.61 | 1.769 | 2.2458 | 2.2458 |
| BMEP | 13.4psi | 13.2psi | 13psi | 12.8psi | 12.8psi |
| Max revs | 14350 | 14500 | 16525 | 20500 | 17900 rpm |
| Piston speed | 22 m/sec | 22.4 m/sec | 24 m/sec | 25.2 m/sec | 25.2 m/sec |
| Peak power | 160 Bhp | 216 Bhp | 239.6 Bhp | 290 Bhp | 765 Bhp |
Kawasaki ZX7-RR/ Proton 990 V5
| | | | | | |
| --- | --- | --- | --- | --- | --- |
| Engine type | ZX7-RR | 990V5 Proton | Stage 2 990 V5? | 990V5 F1? | Honda FI |
| Bore and stroke | 73 x 44.7 | 75 x 46.1 | 78 x 41.5 | 82.8 x 36.8 | 95 x 42.3 |
| Bore and stroke ratio | 1.6331 | 1.605 | 1.88 | 2.2458 | 2.2458 |
| BMEP | 13.4psi | 12.5psi | 13psi | 12.8psi | 12.8psi |
| Max revs | 15000 | 14300 | 17350 | 20500 | 17900 rpm |
| Piston speed | 22 m/sec | 22 m/sec | 24 m/sec | 25.2 m/sec | 25.2 m/sec |
| Peak power | 165 Bhp | 198 Bhp | 249 Bhp | 290 Bhp | 765 Bhp |
The chart shows estimated engine dimensions, Bore and stroke, theoretically the shorter the stroke the higher the revs the motor can get to, 25 m/sec is considered quite high! As the ratio between bore and stroke gets more extreme, you get a motor that is more of a screamer, Bore and stroke ratio is the way this is described. BMEP is Brake Mean Effective Pressure and is a measure of the efficiency of the engine. It is difficult to keep the efficiency as good as the revs rise,so we have shown it reducing with the higher revving engines.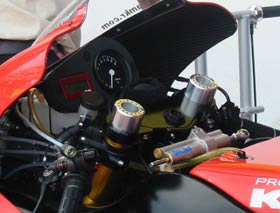 So what other aspects have the two teams been considering? The main one has to be the packaging, how small can they make the engine? Where do we put the fuel and what price has to be paid in power terms for the size we can get.
The Honda has a 75.5-degree Vee angle, while this is smaller in size, front to rear than a 90 degree Vee, it's a bit taller, but Honda decided it was the right trade-off. The Proton is a 60-degree version. The decision to build the narrower Vee means that the Proton has had to have a balancer to stop excessive vibration; this is one of the most easily seen external differences between the two engines. Although the balancer will soak up a little power it means that Team Roberts can move their engine around in the chassis a little more easily and therefore have more latitude in creating a really good handling bike, something they have proved they can do before.
Chassis designs are similar, Honda has almost productionised their bike with very elegant radiators and frames and what look like die cast engines. The Proton however is still in its initial prototype stage. Because of its narrower angle the frame has to go round the front cylinders, making it a little wider at the front, this is a bit of a pain as this means the bike will be wider just where the riders forearms will want to be, that means a bigger fairing and more drag. Both bikes use the new Fully floating suspension with the shock mounted completely under the swingarm. This has the advantage of not needing a frame mount for the top of the shock absorber, so allowing the fuel tank to come down a little lower. Given that most of the space over the engine is airbox this is a very valuable improvement.
One component that is on the engine but dramatically affects the chassis behaviour is the slipper clutch; Proton have an AP Lockheed one, very similar to the one on the Aprilia. While there has been a lot of talk of electronics reducing engine braking the Honda still seems to have a slipper with an airscoop built in.
Aerodynamics is one area of obvious difference, Honda has power to burn and has chosen bodywork to enhance handling at the cost to straightline speed, the Proton however has opted to get as straight line speed assistance as they can from their fairings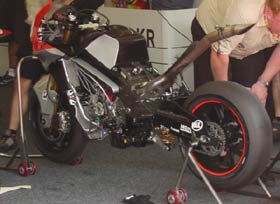 Team Roberts have been recruiting to make sure their next steps are even more impressive than their initial debut. Taking on the might of Honda is not easy and a lot of work is still going to be needed to get them up to the top. But they are recruiting well, as well as last years joiner John Barnard, one of the most highly rated Formula One designers, there are amongst the new employees people with recent real experience of combining Formula One technology and bike needs. Chief amongst them is Stuart Banks, Ex Chief Engineer of Cosworth's commercial engineering department, the man that earlier this year was the Cosworth representative in the Aprilia garage.
It is going to be interesting to see how this all works out, just how much power can a bike really use?, will we end up with a common layout just like Formula One or will the bikes prove to be a far more difficult thing to reduce to a computer model than a car. At the moment at least there is a lot of innovation going on; long may it continue.
Oh and on the engines? Well the RVF's have revcounters at signing off at 17,000rpm and the Proton stops at 14,000. But that doesn't mean that's what they actually do, and it doesn't stop us speculating about what they are doing now and more importantly what they will be doing next week.
And if you want to put the Stage 2 990 V5 in perspective, have a look at the Bore / stroke ratio of Neil Hodgsons Ducati 999; 1.7687. maybe its not that extreme after all!
Neil Spalding 2003