Rimini – Terni 303km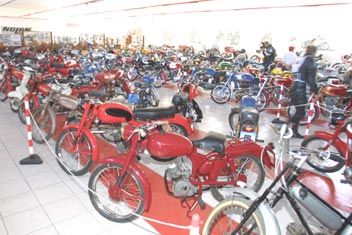 Leaving Rimini behind we set off down the coast road towards Ancona, the roads were very congested, the complete opposite of the day before, this being the main road past all the Adriatic coast resorts. The saving grace was a visit to the Saltarelli collection in Senigallia. Better than the factory museum in the number of Ducati models present, the Saltarelli's reckon they are only missing four Ducati's before they have one of each model the factory has ever produced!
Finally getting away from the coast road and heading in to towards Terni, the first place we stopped was at the fortress town of Loreto with the noise of the bikes echoing off the walls of the Palazzo Apostilico. It soon became obvious that we had dawdled too long at the museum and the marshals travelling with the touring group decided to hit the Autostrada for a hour to get us back on schedule, the critical point in the trip was to get to the Roman Water falls at Terni for 4.30 in the afternoon.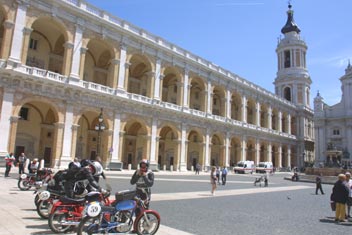 On the way we stopped at the Giro time check at Chiesa di San Maria, as the race bikes launched off down the hill the Church bells were going flat out, and there were spectators in the church tower with ear defenders watching the show! When I said that the Italians love noise I really only understood the half of it.
The Cascata delle Marmore are artificial waterfalls built by the Romans, using water diverted from a nearby river a holding pond is filled and then opened, the falls work for about an hour and are only usually operated on Public holidays. The sight of a waterfall jetting straight out of a hillside as we came down the hill was stunning, we just sat in the viewing area at the bottom, getting soaked in the spray and playing spot the rainbow.
The final trip into Terni was only 20 km and included one incident just to remind me that one is in trouble as soon as you let your guard down. Coming into the city I was riding down the outside of a group of cars at 20 km or so quicker than them, one decided to turn left in front of me. I just nailed the front brakes; rear wheel in the air, the lot, as the bike started to swing around the car moved forward and I missed him by inches. It took a while to deal with the shakes from that one.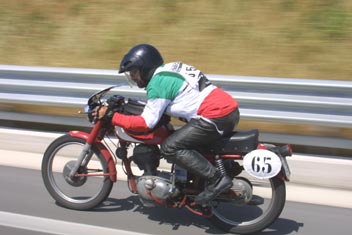 The evening meal was organised at the Taverna La Molo in the medieval town of Stroncone. Rather than get back on the bikes the organisers laid on a coach up the hill, the winding path from the square to the restaurant marked by the flickering light of hundreds of candles.
The meal was classically Italian; sleeping was not a problem.
Neil Spalding