On Saturday Paul Jones put his Sigma Ducati on to second place on the Oulton Park British Supersport grid; he got sixth in Sundays race after a tense and drama filled twenty four hours.
As well as being second on the grid Paul got the Sigma Ducati through both speed traps over a mile an hour faster than the next fastest bike. 'We got the bike working well on Friday and we knew we could go well in qualifying, the speed traps here are just after really fast corners and we can just fly through those on the Ducati'.
Second Qualifying was held in the wet, 'we wanted to test for the rain, if its wet for the race we need to know how to set the bike up, there are a selection of Dunlop's that can work on this bike and we have never been able to test them; there was no point in just going out and wobbling round?'.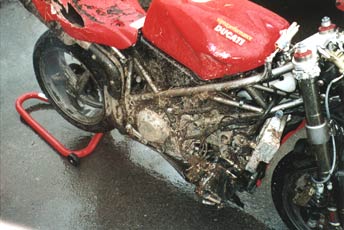 Paul crashed heavily in the last lap of wet practice at the very fast Knickerbrook corner, destroying everything on the right side of the bike.
'For a couple of hours on Saturday night we were just going home; we simply do not own spares of the sort of parts that were destroyed. Then we decided that there was simply no way we were going to miss claiming our place at the front of the grid; a lot of people have worked too long and hard for that. We are very grateful to Reve Racing (Red Bull Ducati) and GSE Racing (INS Ducati) for lending us valuable parts to let us get out' said Neil Spalding.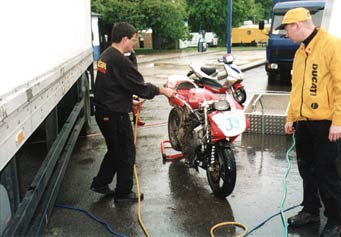 After a major rebuild the bike took its place at the front of the grid and the race started, Paul was in third place dicing with Scott Smart (D&E Ducati) when Scott got off in spectacular fashion at cascades. Paul avoided the sliding Scott but Chris Vermeulen (Sanyo Honda) went down after contacting Pauls rear tyre in the melee. The pace car came out for several laps, and as that pulled off two Hondas overtook Paul. The race was stopped early due to a crash, just as Paul was lining up for a repass; sixth was the result.
'The damage suffered by the bike in Saturdays wet crash had lost us a little power; the exhaust has a few additional bends in it and we to had to disable one of the fuel injection sensors so the power was a little less crisp than before'.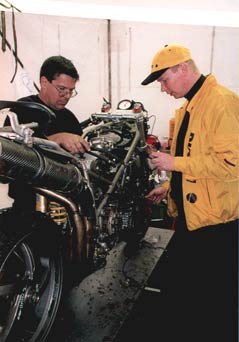 'The bike handled really well but the power was a bit fluffy, I really though we were on for a podium here, avoiding Scott was a bit Hairy for a while though!!' said Paul after the race.
Neil Spalding said ' The results seen at this meeting represent the culmination of a lot of hard work from a lot of people; Sigma Performance is an entirely private operation, we build and maintain our own engines, we prepare and maintain the whole machine. It is a credit to all the people involved to get on the front row of a British Supersport race after only four events, we owe our thanks to all those who have supported us and to Ducati for making available a machine capable of taking on the might of the works teams.'
'We are still desperately looking for sponsorship, we believe we can stay at this level of performance but to do so we need a budget for the whole year, please contact us if you want to be part of our race programme'.
Sigma Performance and Paul Jones' racing is supported by; Robert Fearnell, Donington Park Circuit, Ducati UK, Dunlop, Lloyd Lifestyle, Glenns Motorhome & Leisure, Rock Oil, AFAM USA, DID chain, Ferodo and Champion Spark Plugs.